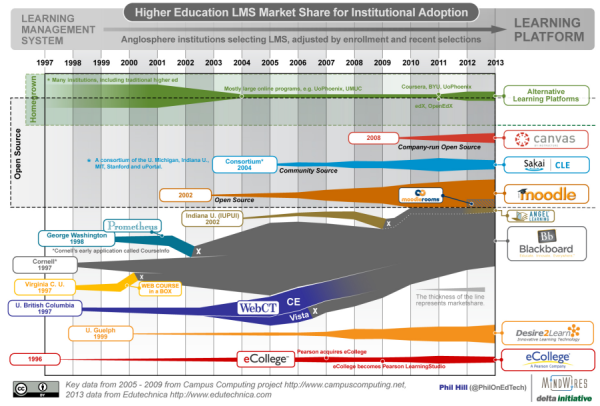 Introduction
Former LaGrange College student, Carl Straumsheim (former student, strong thinker, and good guy), writes a great article on usage, frustration, and market portion of learning management systems at higher education institutions.
Learning Management Systems by Market Shares
The included image, taken from the article (link), highlights growth and decline of different LMSs.  To me, it seems that Canvas, Moodle, and D2L are the ones that are growing.  Interestingly enough, thought a handful of our own vendors with whom we keep contact, Blackboard (although shrinking in usage according to the image) sees the potential in some of these other systems.  Companies like Blackboard-owned Moodlerooms host the open-source Moodle LMS.   Clients get to use many of the tools made available to Bb users while using Moodle.
Carl's article is full of information, but mainly this information is staggering and a little disconcerting.  Phrases like
"…the systems are often the source of frustration for faculty members, but according to the faculty survey, 60 percent of respondents said they were satisfied with them."
Only 60%?  Why so low?  In a statement concerning low use of advanced features, Mr. Straumsheim records this:
"Most faculty members — 58 percent, according to the survey — said they primarily use their system as a place to store content such as lecture notes and the syllabus, while 41 percent said they use it to interact with students outside the classroom."
No doubt, the dwindling time of the average faculty member contributes to the less expansive use of the full feature set of these systems.   How can faculty be encouraged to learn these tools when stretched thin between teaching, research, committee, and other duties?
Conclusion
This grim scenario ultimately begs a question:  would faculty be happier with more straightforward tools that are easier to use?  I think the answer is that they would be.
The new Google tool Classroom was not included.  I wonder how the successor to the image above will look next year and if it will include the new tool.
Learning Management Systems by Market Shares